Effect of Breastfeeding Counseling with Flip Sheet Media (dr. Utami Roesli) on Behavior and Consumption Levels (Energy and Nutrition) in Trimester III Pregnant Women in Wandanpuro Village, Bululawang District, Malang Regency
Alia Wati

Poltekkes Malang

Sugeng Iwan Setyobudi

Astutik Pudjirahaju
Abstract
Cases of stunting toddlers based on Basic Health Research or RISKESDAS in 2018 amounted to 30 percent, for East Java at 33 percent, while based on the results of baseline data in Wandanpuro Village, Bululawang Malang Subdistrict in 2018 by 38 percent. To analyze the effect of breastfeeding media, Dr. Utami Roesli, counseling on behavior and consumption level namely energy and nutrients in third trimester pregnant women in Wandanpuro Village, Bululawang District, Malang Regency. This type of research is Pre experiment, using the design of One Group Pretest Posttest Design. The independent variable of this study was breastfeeding counseling with flipchart media, Dr. Utami Roesli, and the dependent variables were behavior, diet, and consumption level of third trimester pregnant women. The population in this study were 15 third trimester pregnant women in Wandanpuro Village as many as 15 people. The provision of breastfeeding media counseling, Dr. Utami Roesli, gave a significant influence on knowledge namely p equal 0.001, attitude namely p equal 0.001, skills namely p equal 0.000, eating patterns in the animal food group namely p equal 0,034, vegetables and fruit namely p equal 0,018, energy consumption level namely p equal 0,000 and fat consumption level namely p equal 0,009. There are significant differences in knowledge, attitudes, skills, diet for animal food groups, vegetables and fruit, energy and fat consumption levels. However, there are insignificant differences in the diet of grains, tubers, oils and fats, oily fruits and seeds, nuts, sugar, levels of protein and carbohydrate consumption.
References
Azwar, S. 2012. Sikap Manusia Teori dan Pengukurannya. Pustaka Pelajar, Yogyakarta.
Hestuningtyas, T. N., dkk. 2013. Pengaruh Konseling Gizi Terhadap Pengetahuan, Sikap, Praktik Ibu Dalam Pemberian Makan Anak, Dan Asupan Zat Gizi Anak Stunting Usia 1-2 Tahun Di Kecamatan Semarang Timur. Journal of Nutrition College. Volume 3, Nomor 1, Tahun 2014, Halaman 17-25.
Kemenkes RI. 2014. Pusat Data dan Informasi ASI.
Kemenkes RI. 2016. Pusat Data dan Informasi Kementerian Kesehatan RI.
Ni'mah, K dan Nadhiroh, S.R. 2015. Faktor yang Berhubungan dengan Kejadian Stunting pada Balita. Jurnal Media Gizi Indonesia, Vol. 10, No. 1: 13–19.
Notoatmodjo, S. 2011. Kesehatan Masyarakat Ilmu dan Seni. Jakarta: PT Rineka Cipta.
Rachmaniah, N. 2014. Hubungan Tingkat Pengetahuan Ibu Tentang ASI dengan Tindakan ASI Eksklusif. Skripsi : Fakultas Kedokteran. Universitas Muhammadiyah Surakarta.
Rencana Strategis Direktorat Jenderal Bina Gizi dan KIA. 2015-2019.
Sinaga., Fatimah, N., dan Syamsiyah, N. 2015. Proporsi Pengeluaran Rumah Tangga Di Desa Patimban Kecamatan Pusakanagara Kabupaten Subang Jawa Barat. Jurnal Pemikiran Masyarakat Berwawasan Agribisnis, Vol.1, No.4.
Suhardjo. 2003. Perencanaan Pangan Dan Gizi. Jakarta : Bumi Aksara.
Thasim, S., Syam, A., dan Najamuddin, U. 2013. Pengaruh Edukasi Gizi Terhadap Perubahan Pengetahuan Dan Asupan Zat Gizi Pada Anak Gizi Lebih Di SDN Sudirman 1 Makassar. Jurnal Kesehatan Masyarakat, Vol.2, No.1.
Widianto, S., Aviyanti, D., dan Tyas, M. 2012. Hubungan Pendidikan dan Pengetahuan Ibu tentang ASI Eksklusif dengan Sikap terhadap Pemberian ASI Eksklusif. Jurnal Kedokteran Muhammadiyah, Vol.1, No.1.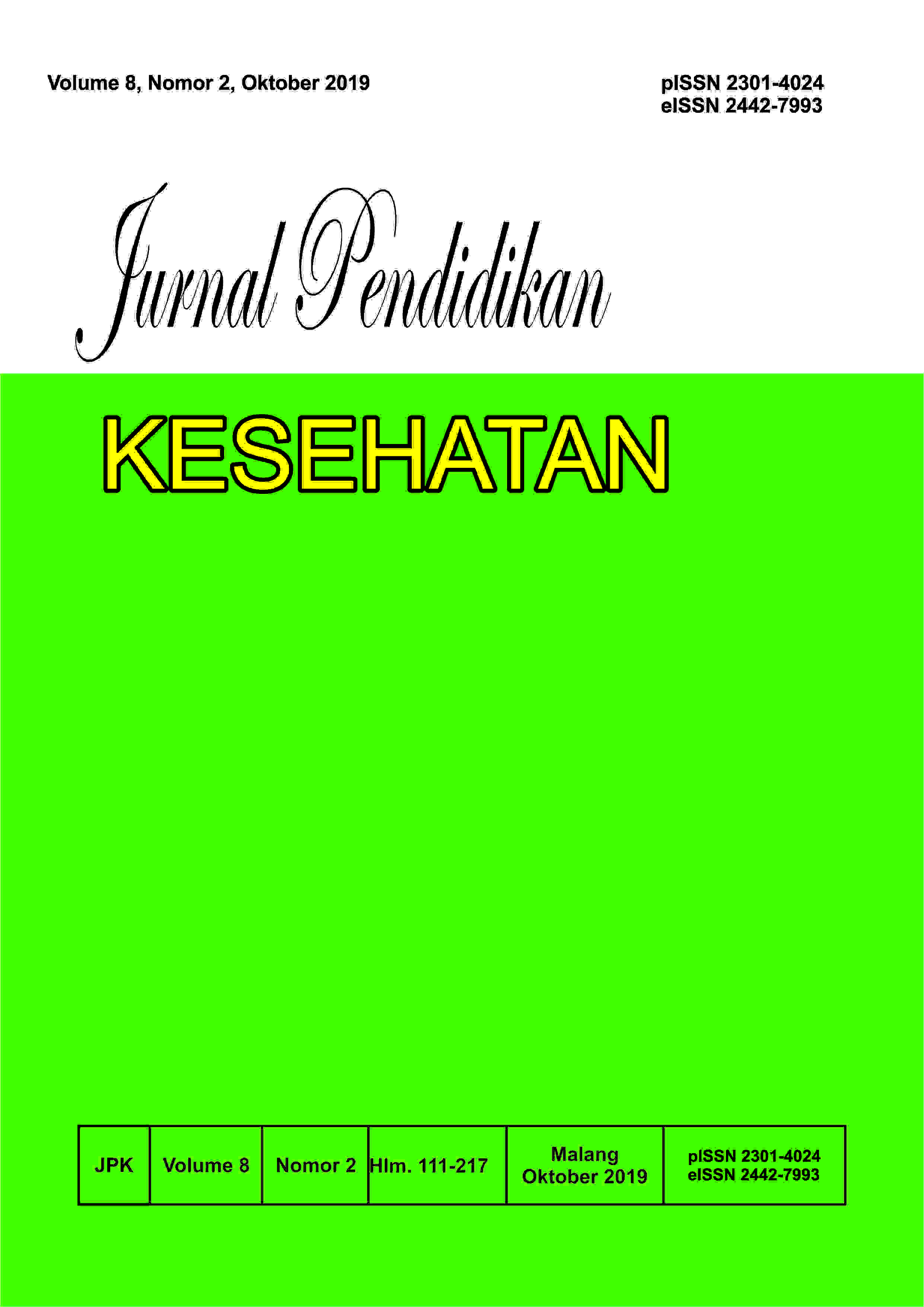 How to Cite
WATI, Alia; SETYOBUDI, Sugeng Iwan; PUDJIRAHAJU, Astutik. Effect of Breastfeeding Counseling with Flip Sheet Media (dr. Utami Roesli) on Behavior and Consumption Levels (Energy and Nutrition) in Trimester III Pregnant Women in Wandanpuro Village, Bululawang District, Malang Regency.
Jurnal Pendidikan Kesehatan
, [S.l.], v. 8, n. 2, p. 189-200, oct. 2019. ISSN 2442-7993. Available at: <
https://ojs.poltekkes-malang.ac.id/index.php/jpk/article/view/1110
>. Date accessed: 29 nov. 2022. doi:
https://doi.org/10.31290/jpk.v8i2.1110
.
Section
Original Research
This work is licensed under a Creative Commons Attribution-ShareAlike 4.0 International License.

Array ( )