Studi Penaganan Pre Hospital Stroke Pada Keluarga
EDI - YUSWANTORO

Poltekkes Kemenkes Malang

Rahayu Niningasih

Poltekkes Kemenkes Malang

Mimik Christiani

Poltekkes Kemenkes Malang
Abstract
Abstrak: Stroke merupakan gangguan fungsional otak yang terjadi mendadak dengan tanda dan gejala klinik baik fokal atau global selama lebih dari 24 jam yang menimbulkan kematian akibat gangguan peredaran darah di otak. Penanganan cepat dan tepat merupakan salah satu kunci penting mengurangi kematian dan meminimalkan kerusakan otak yang ditimbulkan oleh stroke. Keberhasilan penanganan kondisi pre hospital stroke pada keluarga dipengaruhi peran dan tingkat pengetahuan keluarga dalam mendeteksi serangan stroke. Tujuan penelitian mengetahui gambaran penanganan pre hospital yang dilakukan oleh keluarga mulai dari deteksi dini, pengiriman maupun rujukan cepat. Penelitian merupakan penelitian deskriptif survei  dengan subyek penelitian sebanyak 50 responden. Tehnik pengambilan sampel menggunakan tehnik Acidental Sampling. Penelitian diawali pengisian kuesioner oleh responden selanjutnya data hasil penelitian dianalisis menggunakan analisis univariat untuk memperoleh distribusi frekuensi dari masing-masing variabel. Gambaran penanganan pre hospital stroke pada keluarga rerata dalam kategori cukup. Penanganan awal deteksi dini kategori cukup 31 (62 persen), pengiriman pasien kategori cukup 43 (86 persen) dan transportasi 26 (52 persen). Dan data cenderung mengarah ke kategori kurang daripada ke kategori baik. Adanya kecenderungan kurang baik penanganan pre hospital stroke pada keluarga dari segi deteksi dini, pengiriman pasien dan transportasi. Edukasi pada masyarakat diperlukan untuk meningkatkan pemahaman masyarakat terhadap penanganan pre hospital stroke.
References
DAFTAR PUSTAKA

AHA. (2016). A Guideline for Healthcare Professionals From the American Heart Association/American. http://stroke.ahajournals.org, March 16,.
Asanti, & Pinzon. (2010). Keperawatan Medikal Bedah. Edisi 2. Jakarta: EGC.
Asmaria, M., & Yuderna, V. (2020). Study Fenomenologi Pengalaman Keluarga Pasien Dalam Penaganan Pre- Hospital Pasca Deteksi Dini Stroke. Jurnal Kesehatan Medika Saintika Vol 11, No 2.
Batubara, S., & Tat, F. (2015). Hubungan antara penanganan awal dan kerusakan neurologis pasien stroke di RSUD Kupang. Journal Keperawatan Soedirman, 10, 3.
Edward, C., & Jauch. (2013). Guidelines for the Early Management of Patients With Acute Ischemic Stroke ; a guideline for Health care Profesionals form the American Heart Association/American Stroke Association."Stroke".
Herawati. (2016). Konsep Keperawatan Keluarga. Banjarbaru: Universitas Lambung Mangkurat.
Kasim, S., Abbas, K., & Z Aly, e. a. (2009). Awereness of sroke Risk Factor, Signs and Treatmen in a Pakistan Population. The Journal of the Pakistan Medical Association, 59(7):495-499.
Kemenkes. (2014). Pusat Data dan Informasi. Jakarta Selatan: http://w w w . d e p k e s . g o . i d /download.php?file=download/pusdatin/buletin/buletin-ptm.pdf.
Meschia, J., Jauch, E., Hoh, B., Coffey, C., Biller, J., Derdeyn, C., et al. (2015). American Heart Association/American Stroke Association Focused update of the 2013 guidelines for the early management of patients with acut ischemic stroke regarding endovascular treatment : A guideline for healtcare professionals form the American Heart . American Stroke Association, 6(10), 3020-3035. doi.
Mubarak, W. (2005). Pengantar Keperawatan Komunitas. Yogyakarta: Agung Seto.
Ningsih, D. K. (2017). Pengetahuan Keluarga Berperan Terhadap Keterlambatan Kedatangan Pasien Stroke Iskemia Akut di Instalansi Gawat Darurat. Jurnal Kedokteran Brawijaya Vol.29, No. 04, pp. 368-375.
Pinzon, R. T. (2016). Awas Stroke. Yogyakarta: Betha Grafika.
Riskesdas. (2018). Hasil Utama Riskesdas 2018. Kementrian Kesehatan dan Badan Penelitian dan Pengembangan Kesehatan.
Setianingsih, Darwati, L. E., & Prasetya, H. A. (2019). Study Deskriftif Pre-hospital stroke Life Support pada keluarga. Jurnal Perawat Indonesia Vol 3, No 1, 55-64.
Sweileh, W., Sawalha, A., Al-Aqad, S., Zyound, S., & Al-Jabi, S. (2009). Predictors of in-Hospital Mortality after Acute Stroke: Impact of Gender. International Journal of Clinical and Experimental Medicine, 2(1): 41-47.
Tamilyn, B., & Lenora, M. (2004). Factor associated with hospital arrival time for stroke patients. The Journal of Neuroscience Nursing, (3)3.
Teuschl, Y., & Brainin, M. (2010). Stroke Education : Discrepancies Among Factors Influencing Prehospital Delay and Stroke Knowledge. International Journal of Stroke, 187-208.
WHO. (2016). Sixty-fifth world health assembly. Accessed: http:// www.who.int/mediacentre/events/2012/wha65/journal/en/index4.html.
Widi, N. S. (2013, Oktober Kamis 13). Perhatikan ini pada. Republika online.
Wing, e. a. (2011). Understanding reasons for delay in seeking acute stroke care in an underserved urban population. NIH Public Access,, 42(6): 1697–1701.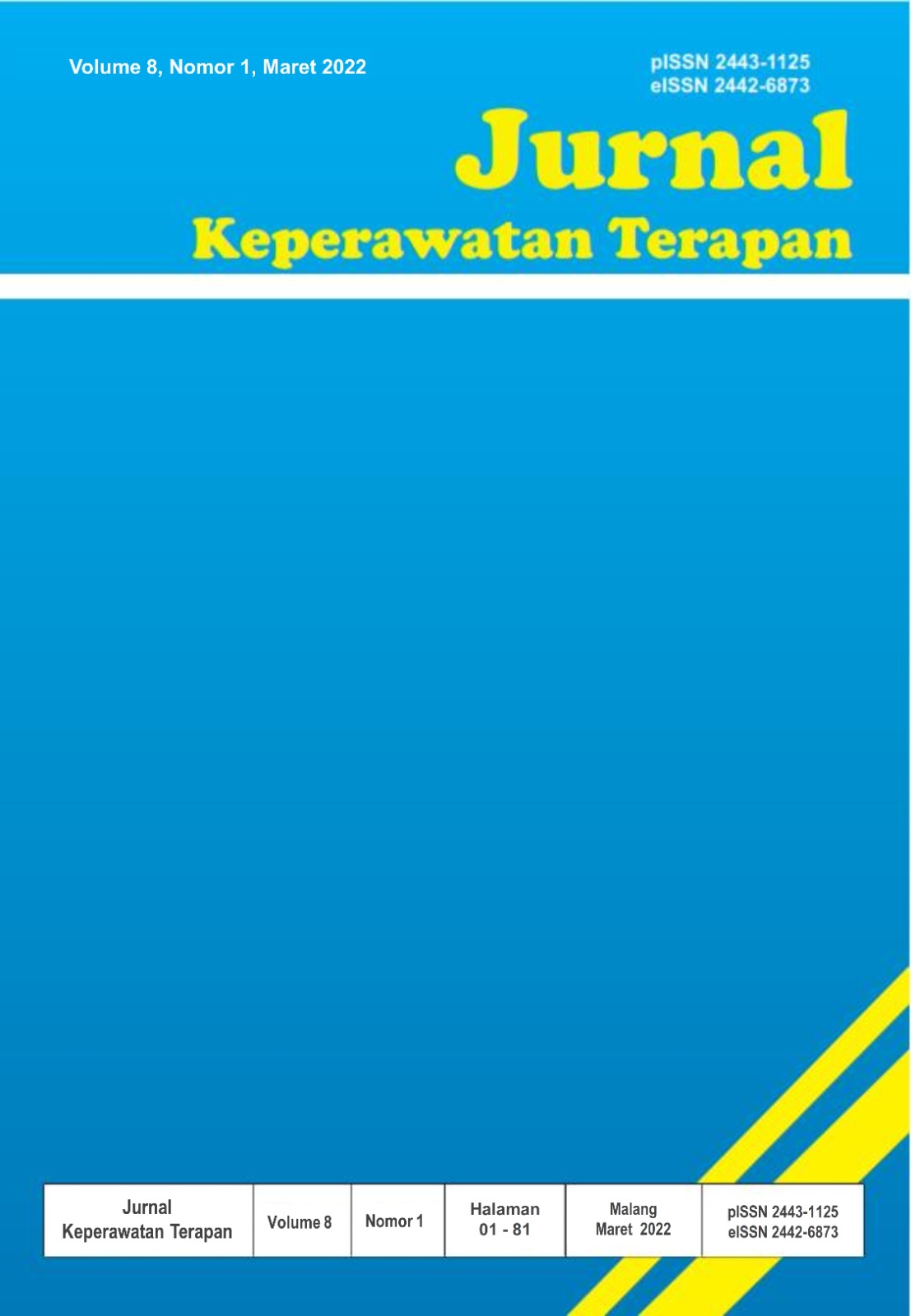 Section
Original Articles
This work is licensed under a Creative Commons Attribution-ShareAlike 4.0 International License.