Pengaruh Pemakaian Ethyl Chloride Spray Terhadap Tingkat Nyeri Pada Pasien Hemodialisis Dengan Insersi Fistula Arterio Venous Di Klinik Utama Bali Husada Cipta Chanti
Ni Kadek Lisyawati

STIKES Bina Usada Bali

I Putu Artha Wijaya

A.A. Kompiang Ngurah Darmawan
Abstract
Hemodialysis is one of the therapies for patients with chronic kidney failure in the form of the process of cleaning blood from metabolic products that are no longer needed by the body by filtering that is done outside the human body, using a dialysis machine as a kidney replacement known as renal replacement therapy (Suwitra., Et al , 2010). Hemodialysis requires the access of the hemodialysis machine to connect with the patient's blood vessels so that the insertion of the fistula in the arteries and veins in each action and cause pain. One way to reduce the level of pain during fistula insertion is by spraying ethyl chloride spray in the area of the arteries and veins to be carried out fistula insertion. The purpose of this study was to determine the effect of using ethyl chloride spray on pain levels in hemodialysis patients with fistula insertion of arterio venous at the Main Clinic of Bali Husada Cipta Chanti. This research method uses pre experiment with the one group pre test-post test design. The sampling technique used was simple random sampling without replacement with a total sample of 69 respondents. The instrument used to measure the level of pain is the Numerical Rating Scale (NRS). The research data were analyzed with Wilcoxon signed rank test with p value = 0,000 (? = 0.05) which means that p value <0.05 so that it can be concluded that there is an effect of using ethyl chloride spray on pain levels in hemodialysis patients with insertion fistula in arterio venous at Main Clinic Bali Husada Cipta Chanti.
References
Arifiyanto. (2015). Gambaran Tingkat Depresi dan Kualitas Hidup Pasien Penyakit Ginjal Kronik yang Menjalani Hemodialisis di RSUP H. Adam Malik Medan. Available at: http://repository.usu.ac.id/handle/123456789/31616. (Diakses 10 Juni 2019).
Barnett. (2009). Fluid Complience Among Patient Having Hemodialisis: Educational Program Make a Difference: Journal Of Advance Nursing Of Ford : Vol 61, 1553.
Bonica, J. (2018). Management of Paint. Edition: 5th Ed. ISBN: 978-1-49-634903-3. New York; Lippincott Williams.
Boulton, A.J.M., Blogg, A.I., Arezzo. (2009). Diabetic Neuropathies. A statement by the American Diabetes Association Diabetes Care 28 (4).
British Journal of Anaesthesia. (2008). Assesment of pain. Volume 101, Issue 1, July 2008, Pages 17–24, https://doi.org/10.1093/bja/aen103. (Diakses 15 Juli 2019).
Brunner & Suddarth. (2011). Buku Ajar Keperawatan Medikal Bedah. Edisi 8. volume 2. Jakarta: EGC.
Cahyaning. (2009). Hemodialisis (Cuci Darah) Panduan Praktis Keperawatan Gagal Ginjal. Yogyakarta: Mitra Cendekia.
Depkes. (2017). Infodatin pusat data dan informasi kementrian kesehatan RI: Situasi Penyakit Ginjal Kronik di Indonesia. http://www.depkes.go.id/resources/download/pusdatin/infodatin/infodatin pgk.pdf. (Diakses 18 Juli 2019).
Elizabeth. (2011). Cardiovascular Abnormalities in Autosomal - Dominant Polysystic Kidney Disease. Nat Rev Nephrol.
Fransi Arsani. (2015). Perbandingan Daya Guna Etil Klorida Semprot Dengan Krim Anestesi Topikal Dalam Menurunkan Nyeri Saat Penyuntikan Jarum Spinal di Daerah Lumbal. Universitas Gadjah Mada. http://etd.repository.ugm.ac.id/ (Diakses 18 Juli 2019).
Global Burden of Desease. (2010). Understanding disease injury and risk. Volume 380, Issue 9859 : https://www.sciencedirect.com/science/article/pii/S0140673612617280. (Diakses 15 Juli 2019).
Goldberg, D.S. & McGee, S.J. (2011). Pain as a Global Public Health Priority. BMJ Public Health. 11(770). [Online]. http:// bmcpublichealth.biomedcentral.com/articles/ 10.1186/1471-2458-11-770. (Diakses 18 Juni 2019).
Hasneli Y. (2017). Hubungan Lama Menjalani Hemodialisis dengan Inter-Dialytic Weight Gain (IDWG) pada Pasien Hemodialisis di RSUD Dumai. Program Studi Ilmu Keperawatan, Universitas Riau. file:///C:/Users/Acer/Downloads/646-1486- 2-PB%20(3).pdf. (Diakses 15 Juli 2019)
International Association for the Study of Pain. (2014). IASP Taxonomy. http://www.iasppain.org/Taxonomy. (Diakses 15 Juli 2019.
Kamus Besar Bahasa Indonesia. (2016). Edisi V. Departemen Pendidikan Nasional. Jakarta: Balai Pustaka.
Katzung B.G., Masters, S.B. and Trevor, A.J. (2009). Basic and Clinical Pharmacology. 11th Edition. New York: Mc. Graw-Hill Medical
Kemenkes RI. Laporan Hasil Riset Kesehatan Dasar. (2013). Jakarta: Badan Penelitian dan Pengembangan Kesehatan Kemenkes RI.
Kurniyawan. (2016). Complementary and Alternative Medicine Acupressure In Reducing Pain Intensity: A Narrative Review. NurseLine Journal Vol. 1 No. 2 Nopember 2016 p-ISSN 2540-7937 e-ISSN 2541-464X. (Diakses 18 Juni 2019).
Lavey. (2011). Acute Complication During Hemodyalisis. New York: Mc. Graw-Hill Medical.
Lindley, Aspinal, Claire & Garthwaite. (2011). Management of Fluid Status In Haemodialysis Patients: The Roles Of Technologi And Dietary Advice. Departemen Of Renal Medicine, Leeds Teaching Hospital NHS Trust United Kingdom.
Madjid & Suharyanto. 2009. Asuhan Keperawatan Pada Klien Dengan Gangguan Sistem Perkemihan. Jakarta: TIM.
Mahayundhari, N.P.E. (2018). Hubungan Adekuasi Hemodialisis dan Status Gizi dengan Kualitas Hidup Pasien Gagal Ginjal Kronik yang Menjalani Hemodialisa di RSUP Sanglah Denpasar. Diploma thesis, jurusan gizi. http://repository.poltekkes-denpasar.ac.id/id/eprint/899. (Diakses 15 Juli 2019).
Muttaqin, Arif & Sari, Kurmala. 2011. Gangguan Gastrointestinal: Aplikasi Asuhan Keperawatan Medikal bedah. Jakarta: Salemba medika.
Noor, A. (2010). Sekilas Penatalaksanaan Nyeri. PERDOSSI: http://www.perdossi.or.id/doc/cpd/attachment/195/6297/PENATALAKSAN AAN%20%20NYERI%20RINGKAS.ppt. (Diakses 15 Juli 2019)
Notoatmodjo, S. (2010). Metodologi Penelitian Kesehatan. Jakarta: Rineka Cipta.
Nursalam. (2011). Konsep dan penerapan metodologi ilmu keperawatan. Jakarta: Salemba Medika
Potter P.A., & Perry, A.G. (2010). Buku Ajar Fundamental Keperawatan: Konsep, Proses, dan Praktik. Edisi 5. Volume 2. Alih Bahasa: Renata Komalasari, dkk. Jakarta: EGC.
Rahman, M., Kaunang, T., & Elim, C. (2016). Hubungan antara lama menjalani hemodialisis dengan kualitas hidup pasien yang menjalani hemodialisis di Unit Hemodialisis RSUP Prof. Dr. RD Kandou Manado. e-CliniC, 4(1).
Ramdhanie. (2018). Efektifitas kompres dingin menggunakan cool pack terhadap tingkat nyeri anak usia sekolah saat tindakan pungsi vena. http://www.ejurnal.stikes- bth.ac.id/index.php/P3M_PSNDPK/article/view/342. (Diakses 15 Juli 2019).
SNARS. (2018). Sistem Nasional Akreditasi Rumah Sakit. Edisi 1. Pelayanan dan Asuhan Pasien. Jakarta: Komite Akreditasi Rumah Sakit.
Sugiyono. (2010). Metode Penelitian Administrasi. Edisi Ke 10 (Edisi Revisi). Bandung: Alfabeta.
Sugiyono. (2011). Metode penelitian kuantitatif kualitatif dan R&D. Bandung: Alfabeta.
Sujarweni, V. Wiratna. 2014. Metode Penelitian: Lengkap, Praktis, dan Mudah Dipahami. Yogyakarta: Pustaka Baru Press.
Suwitra K. Sudoyo AW., et al. (2010). Buku Ajar Ilmu Penyakit Dalam. Jakarta: Interna Publishing.
Wijayanti, W., Isro'in, L., & Purwanti, L.E. (2017). Analisis perilaku pasien hemodialisis dalam pengontrolan cairan tubuh. Indonesian Journal for Health Sciences, 1(1), 10-16.
World Health Organization. 2013. Global Status Report on Noncommunicable Disease.
Yuliana, Y. (2015). Hubungan dukungan keluarga dengan kepatuhan pembatasan cairan pada pasien gagal ginjal kronik dengan terapi hemodialisis di RS PKU Muhammadiyah Yogyakarta. STIKES Aisyiyah, Yogyakarta.
Yusuf, A.M. (2014). Metodelogi Penelitian Kuantitatif, Kualitatif dan Penelitian Gabungan. Jakarta: Prenadamedia Group.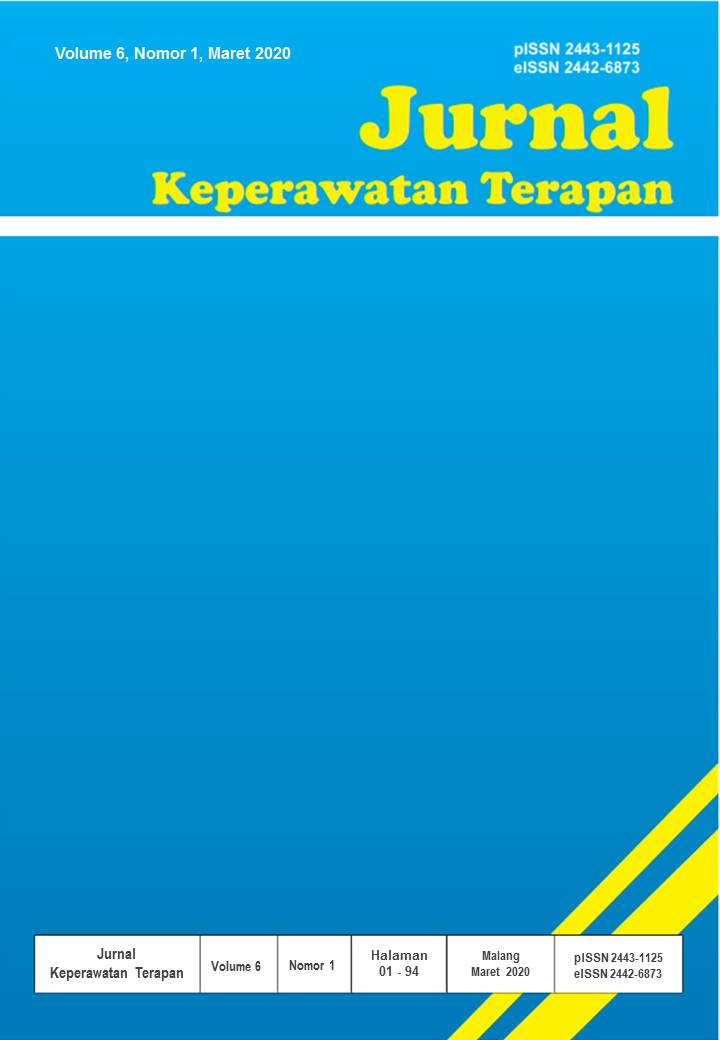 Array ( )