The Difference of Effectiveness Between Coconut Oil and Telon Wipes with Warm Water Baths in Preventing Hypothermia in Newborn Babies in PMB Ririn Restatiningrum, Bululawang.
inge ayu wardani sakinah

poltekes malang

Ardi Panggayuh

Asworoningrum Asworoningrum
Abstract
Newborns have not optimal thermoregulation system, but they sued for adaptation in the extrauterine so they can minimalize complications occur. If the conditions of not optimal ability in  thermoregulation system does not compensated by the right baby care technique, it can cause hypothermia. This research intend to know the diffetence in effectiveness between coconut oil dan telon oil with warm bath in preventing hypothermia in newborn. This research use observational analytic with cross sectional approach as the research design with 30 samples that fullfil the inclusion criteria by purposive sampling. Data is processed using the Independent test t test and the results showed a p value of 0.196, which means that there was no difference in effectiveness between the husk of coconut oil and telon oil with a warm bath in preventing hypothermia in newborns. Based on the average temperature after treatment, coconut oil seka group has a higher average temperature so that it can be an alternative baby care.
References
Anonim. 2011. Telon Lang. https://www.caplang.com/id/product/telon-lang-ytjiZ diakses tanggal 23 Dese63mber 2018.
Arifah. 2008. Peran Lemak Coklat Dalam Mekanisme Produksi Panas Pada Bayi. ISSN 1979-2697, Vol I no. 4
Asrinah, dkk. 2010. Asuhan Kebidanan Masa Persalinan. . Yogyakarta :Graha Ilmu
Bobak. 2008. Buku Ajar Keperawatan Maternitas. Jakarta : Penerbit Buku Kedokteran EGC.
Diosko. 2013. Angka Kematian Bayi, http//www.pdpersi.com. diakses tanggal 19 September 2018
Endah dan I Wayan. 2013. Pengaruh Pemberian Minyak Kelapa dengan Air Jeruk Nipis Terhadap Penurunan Suhu Tubuh pada Anak Usia 1-3 Tahun denga Indikasi Febris di Desa Salamet Kabupaten Turen. Volume 1, Nomor 1 Juli 2013, 15-21
Suranto, Adji. Gudang Madu. 2011. Minyak telon. http://gudangmadu.com/id/minyak-telon/ diakses tanggal 23 Desember 2018.
Green, J.H. 2010. Pengantar Fisiologi Tubuh Manusia. Tangerang : Binarupa Aksara.
Gunawijaya E, Hamid A. Changes in temperature of newborn babies bathed immediately after birth. Med J Indones 2003; 12:73-80. 12.
Gunawan, D., dan Sri, M. (2010). Ilmu Obat Alam (Farmakognosi) Jilid I. Jakarta: penebar Swadaya. Halaman 106-121
Karta dan Ni Made Ary. 2013. Analisis Virgin Coconut Oil (VCO) dan Pengembangan Diversifikasi Produknya pada KWT Balicocos Desa Tengkudak Kabupaten Tabanan. Singaraja
Kirana, dkk. 2016. Review : Bioaktifitas Senyawa 1,8-Sineol Pada Minyak Atsiri. ISSN: 2557-533X.
Kumalasari, Intan. 2015. Perawatan Antenatal, Intranatal, Postnatal Bayi Baru Lahir dan Kontrasepsi. Jakarta : Salemba Medika
Lissauer, Tom dan Avroy. 2013. Selayang Neonatologi, edisi kedua. Jakarta : PT Indeks Permata Puri Media.
Muchtadi, dkk. 2015. Ilmu Pengetahuan Bahan Pangan. Bandung : Alfa Beta
Nanny, Vivian. 2013. Asuhan Neonatus Bayi dan Anak Balita. Jakarta :Salemba Medika
Novilla, dkk. 2017. Komposisi asam lemak minyak kelapa murni (virgin coconut oil) yang berpotensi sebagai anti kandidiasis. Jurnal Kimia e-ISSN 2502-4787.
Oktaviayu dan Sri Nabawiyati. 2009. Pengaruh Pemberian VCO (Virgin Coconut Oil) terhadap Berat Badan Tikus Putih. Mutiara Medika Vol. 9 No. 1:33-41
Sastroasmoro dan Ismael. 2011. Dasar-Dasar Metodologi Penelitian Klinis. Jakarta : CV Agung Seto
Saumendu, DR., Apu, T., Dhrubajyoti., et al., 2012, Antimicrobial Potential of Volatile Oil Isolated From Some Traditional Indian Spices. Deb Roy et al. IRJP,
Soewolo. 2007. Fisiologi Manusia. Malang : UM PRESS
Syaifuddin. 2011. Fisiologi Tubuh Manusia Untuk Mahasiswa Keperawatan Edisi 2. Jakarta : Salemba Medika.
Tabri, Farida dan Hadi Firmansyah. 2016. Perawatan Praktis Kulit Bayi dan Balita. Makassar : Al Hayatun.
Takayama JI, Teng W, Uyemoto J, Newman TB, Pantel RH. Body temperature of newborn: what is normal? Clin Pediatr 2000; 39:503-10
Tando, Naomy Marie. 2015. Asuhan Kebidanan Persalinan Dan Bayi Baru Lahir. Jakarta : In Media.
Winarsunu, Tulus.2007. Statistik dalam Penelitian Psikologi dan Pendidikan. Malang: UMM Press,2007.
Yunanto, Ari. 2014. Buku Ajar Neonatologi. Jakarta : Badan Penerbit IDA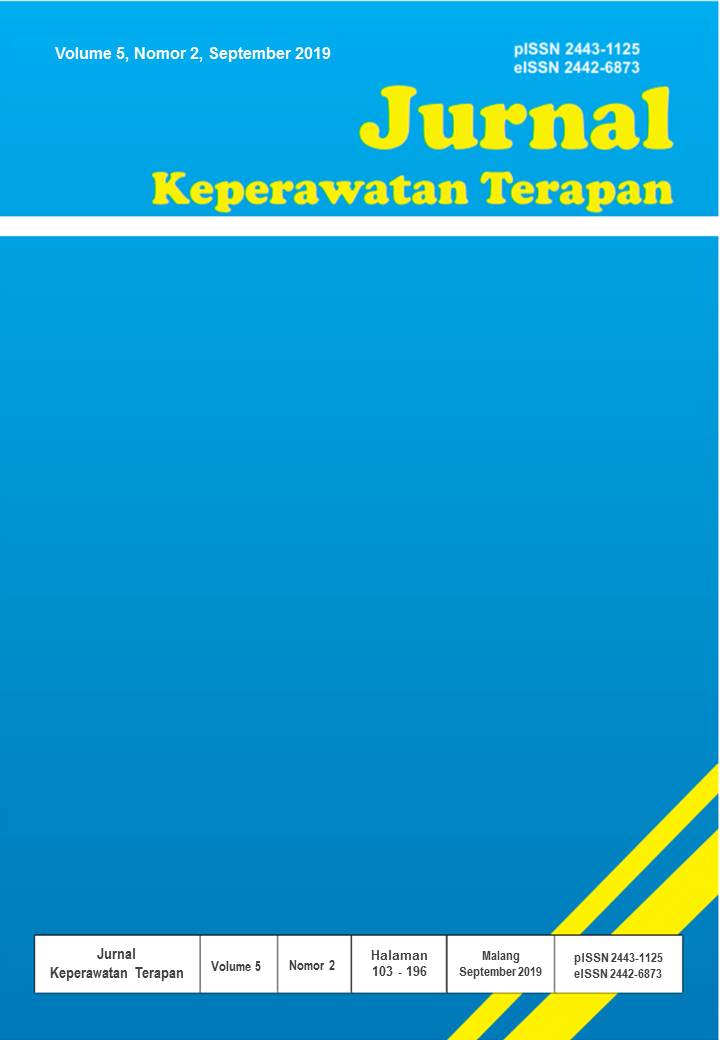 Section
Original Articles