OVERVIEW OF REPORTING TOP 10 DISEASES (LB1) USING GOOGLE DATA STUDIO AT THE HEALTH CENTER
Ari Sukawan

Poltekkes Kemenkes Tasikmalaya

Naida Salsabila

Poltekkes Kemenkes Tasikmalaya
Abstract
The Integrated Health Center Recording and Reporting System (SP2TP) is the activity and reporting of general data, facilities, personnel and health service efforts in the community. Reporting is still not fully implemented, but reporting is carried out if the health department requests monthly reporting. The purpose of this study was to find out the description of the reporting of the top 10 diseases (LB1) using Google data studio at the Puskesmas.
Subjects and Method: This type of research will use a quantitative with a descriptive research design. The population used is all data on patient visits in September 2021-februari 2022.
Results: Monthly reporting using the Google Data Studio application is an alternative solution that can be used by Puskesmas to produce informative dashboards. The presentation of the top 10 disease reports in the form of an online-based dashboard that can be updated automatically by the system so that there will be no data errors or final results errors. The connected data will assist reporting officers in sending reports to the health office. The dashboard of the top 10 disease reports can provide easier and more informative information regarding the highest disease in the Puskesmas every month.
Conclusion: Data that is connected to the dashboard, reporting officers are very helpful in sending reports to the online-based health office and speeding up making decisions.
Keywords: Recording and Reporting, SP2TP, LB1 , Top 10 Diseases, Google Data Studio
References
Bestari, V. R., & Jepisah, D. (2020). Tinjauan Pelaksanaan Pelaporan Data Kesakitan (LB1) Pada Kasus Rabies Di Puskesmas Rumbai Bukit Tahun 2019. Journal of Hospital Management and Health Sciences (JHMHS), 56-66.
Budiman, R. (2014). Modul Sistem Informasi Kesehatan. Manado: Fakultas Kesehatan Masyarakat UNSRAT.
Departemen Kesehatan RI. (2014). Undang-undang Republik Indonesia Nomor 36 Tahun 2014 tentang Tenaga Kesehatan. Jakarta: Kementerian Kesehatan RI.
Fernando, D. (2018). Visualisasi Data Menggunakan Google Data Studio. SNARTISI, 71-77.
Hatta, G. R. (2017). Manejemen Informasi Kesehatan di Sarana Pelayanan Kesehatan. Jakarta: UI PRESS.
Hosizah, & Maryati, Y. (2018). Sistem Informasi Kesehatan II Statistik Pelayanan Kesehatan. Jakarta Selatan: Pusat Pendidikan Sumber Daya Manusia Kesehatan.
Mardiah et al. (2017). PENCEGAHAN PENULARAN INFEKSI SALURAN PERNAFASAN AKUT DAN PERAWATANNYA PADA BALITA DIRUMAH DI KABUPATEN PANGANDARAN. Jurnal Aplikasi Ipteks untuk Masyarakat, 258-261.
Menteri Kesehatan RI. (2013). Peraturan Menteri Kesehatan Nomor 55 Tahun 2013 tentang Penyelenggaraan Pekerjaan Perekam Medis. Indonesia: Menteri Kesehatan RI.
Menteri Kesehatan RI. (2019). Peraturan Menteri Kesehatan Nomor 43 Tahun 2019 tentang Pusat Kesehatan Masyarakat. Indonesia: Menteri Kesehatan RI.
Menteri Kesehatan RI. (2019). Peraturan Menteri Kesehatan Republik Indonesia Nomor 31 Tahun 2019 tentang Sistem Informasi Puskesmas. Indonesia: Menteri Kesehatan RI.
Mulyani et al. (2018). TINJAUAN SEPULUH BESAR INDEKS PENYAKIT RAWAT JALAN PADA TRIWULAN 1 TAHUN 2017 DI PUSKESMAS DASAN TAPEN KECAMATAN GERUNG. Quality Assurance and Health Information Management, 1-9.
Notoatmodjo, S. (2018). Metodologi Penelitian Kesehatan. Jakarta: Rineka Cipta.
Pratiwi, D. P., & Pujihastuti, A. (2016). Tinjauan Pelaksanaan Pelaporan Sistem Informasi Manajemen (SIMPUS) di Puskesmas Jumantono Kabupaten Karanganyar. Jurnal Rekam Medis, 1011-1111.
Sabiladina et al. (2021). TINJAUAN TAHAP-TAHAP PELAKSANAANLAPORAN BULANAN DATA KESAKITAN (LB1) LITERATUREREVIEW. Jurnal Manajemen Informasi dan Administrasi Kesehatan (JMIAK), 27-36.
Septian, A., Khomsatun, & Lagiono. (2021). Hubungan Sanitasi Rumah Tinggal dengan Kejadian Infeksi Saluran Pernapasan Akut pada anak 0-5 tahun di Desa Babakan Kecamatan Pangandaran Kabupaten Pangandaran. Buletin Keslingmas, 176-182.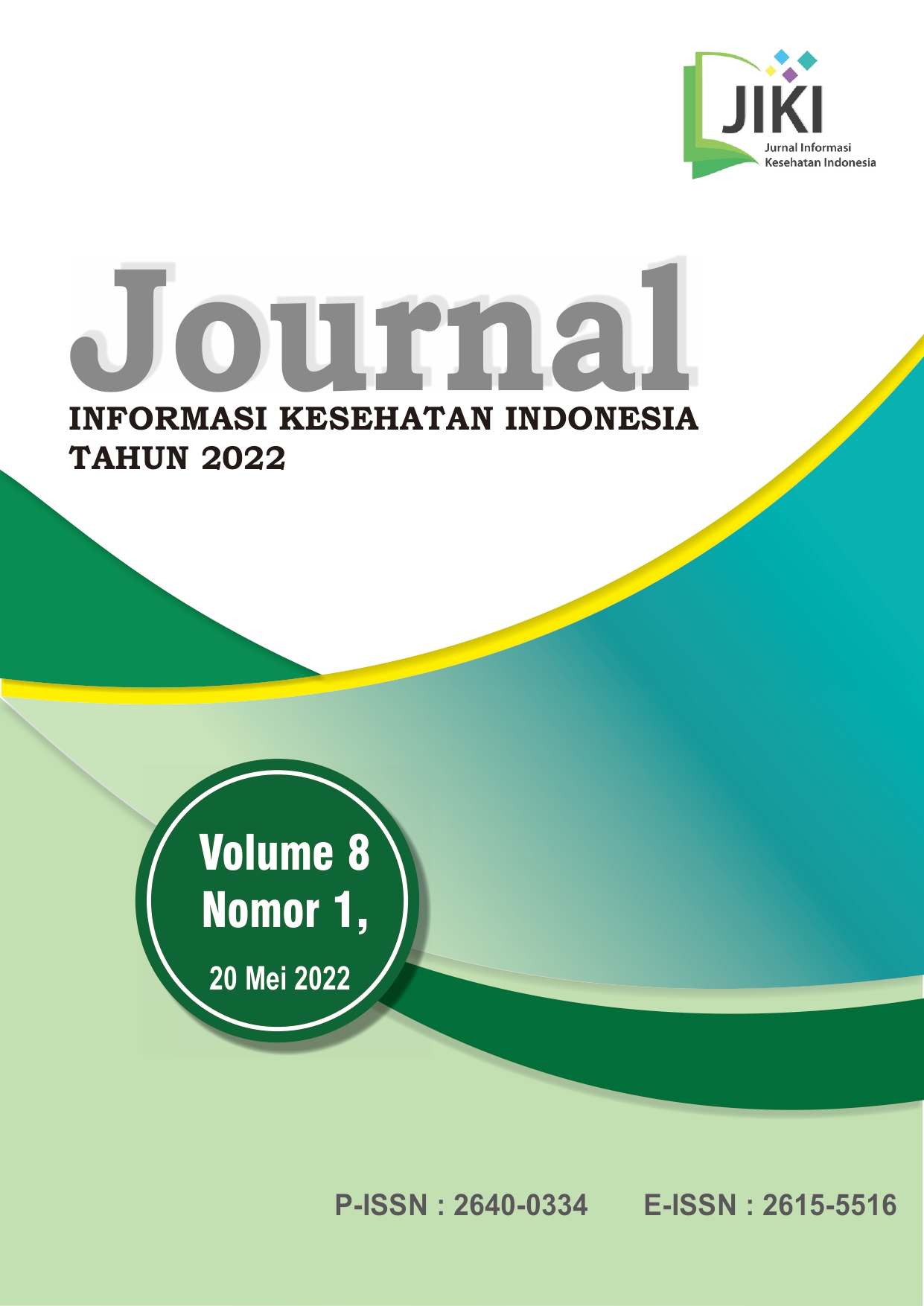 How to Cite
SUKAWAN, Ari; SALSABILA, Naida. OVERVIEW OF REPORTING TOP 10 DISEASES (LB1) USING GOOGLE DATA STUDIO AT THE HEALTH CENTER.
Jurnal Informasi Kesehatan Indonesia (JIKI)
, [S.l.], v. 8, n. 1, p. 102-112, july 2022. ISSN 2615-5516. Available at: <
https://ojs.poltekkes-malang.ac.id/index.php/JIKI/article/view/3233
>. Date accessed: 05 oct. 2022.