Determinants Factors Of Stunting Case In Children Aged 13-24 Months In The Village Of Community Health Centre Work Area Of Poncokusumo Malang. Thesis. Bachelor Study Program of Applied Midwifery Malang.
Putri Nurbaiti

-081252691831

Budi Suharno

Desy Dwi Cahyani
Abstract
Stunting is a condition of incompatibility between a child height and age. Stunting problem is a matter that needs to be considered because it can reduce one productivity, so that it will produce poor human resources. Poncokusumo Subdistrict is one of areas where stunting is still high, 1.941 toddlers with 59,7 percent short category and 40,3 percent  too short category. This study aims to determine the determinants factors of the stunting case in children aged 13 until 24 months in the Village of Community Health Centre Work Area of Poncokusumo. The populations used were 86 children, while the samples were 71 stunting children aged 13 until 24 months in the Village of Community Health Centre Work Area of Poncokusumo. The distributions of children each posyandu in each village were Gubugklakah Village namely 8 children, Karangnongko Village namely 25 children, Belung Village namely 21 children, Ngebruk Village namely 16 children, Pajajaran Village namely 1 child. Sampling in this study used the propotionate startified random sampling technique with a retrospective approach. The research instrument used interview sheets and documentation studies on the KIA book, then it would be analyzed using descriptive analysis with the results that half of the respondent mother education were junior high school namely 50.7 percent and almost half of the respondents did not get Exclusive ASI namely 54.9 percent, and almost half of the respondents did not get MP ASI correctly namely 56.3 percent. Intervention is needed that focus on maternal and child health to reduce the stunting case, and to foster maternal awareness of the importance of Exclusive ASI and the Accuracy of giving MP ASI to children through counseling
References
Amaliah, dkk. 2016. Panjang Badan Lahir Pendek Sebagai Salah Satu Faktor Determinan Keterlambatan Tumbuh Kembang Anak Umur 6-23 Bulan di Kelurahan Jaticempaka Kecamatan Pondok Gede, Kota Bekasi. Jurnal Ekologi Kesehatan. Vol.15 No 1

Ardiyah dkk. 2015. Faktor-faktor yang mempengaruhi Kejadian Stunting Pada Anak Balita di Wilayah Pedesaan dan Perkotaan. E-Jurnal Pustaka Kesehatan. Vol: 3 (1)

Arifin, D.Z, Irdasari, S.Y, Sukandar, H. 2012. Analisis Sebaran dan Faktor Resiko Stunting pada Balita di Kabupaten Purwokerto 2012. Artikel Penelitian Dinas Kesehatan Kabupaten Purwakarta

Arikunto. 2006. Metode Penelitian Kuantitatif, Kualitatif dan R&D, Bandung: PT. ALFABETA

Ariyani, dkk. Validitas Lingkar Lengan Atas Mendeteksi Risiko Kekurangan Energi Kronis pada Wanita Indonesia. Jurnal Kesehatan Masyarakat Vol 7 No 2 September 2012

Biktagiroval GF, Valeeval RA. 2015. Formation of University Students Readiness for Parenthood. [Artikel] Review of European Studies

Bobak. 2004. Buku Ajar Keperawatan Maternitas. Jakarta: EGC

Black et al. (2016). Growth And Development Among Infants And Preschoolers In Rural India: Economic Inequities And Caregiver Protective/Promotive Factors. International Journal of Behavioral Development

Cunningham, G. 2009. Obstetri Williams Edisi 21. Jakarta: EGC

Candra. 2011. Risk Factors Of Stunting Among 1 – 2 Years Old Children in Semarang City. M. Meld Indonesia

Dewi, Vivian Nanny Lia. 2010. Asuhan Neonatus Bayi Dan Anak Balita. Jakarta: Salemba Medika

Ernawati, dkk. 2014. Hubungan Panjang Badan Lahir tehadap Perkembangan Anak Usia 12 Bulan. Jurnal Penel Gizi Makan.

Fitriahadi. 2018. Hubungan Tinggi Badan Ibu dengan Kejadian Stunting Pada Balita Usia 25-59 Bulan. Program Studi Kebidanan Program Sarjana Terapan Fakultas Ilmu Kesehatan Universitas Aisyiyah Yogyakarta Indonesia

Gibney MJ, dkk. 2011. Gizi Kesehatan Massyarakat. Jakarta : EGC

Haryono R. 2014. Manfaat ASI Eksklusif untuk Buah Hati Anda. Yogyakarta: Pustaka Baru

Holmes, Debbie, Philip N Baker. 2011. Buku Ajar Ilmu Kebidanan. Jakarta: EGC

Hull, David. 2008. Dasar- Dasar Pediatri Edisi 3. Jakarta: EGC

Irianto, Koes. 2014. Biologi Reproduksi. Bandung: Alfabeta

Irwansyah, dkk. 2016. Kehamilan Remaja Dan Kejadian Stunting Anak Usia 6 – 23 Bulan Di Lombok Barat. BKM Journal Of Community Medicine and Public Health

Kasjono, HS., Yasril., 2009. Teknik Sampling untuk Penelitian Kesehatan. Yogyakarta : Graha Ilmu

Kemenkes RI. 2014. Menu MP-ASI 4 Bintang Pedoman Gizi Seimbang (PSG). Mom's Best Friend. Sanggar ASI

Kemenkes. 2014. Pedoman Gizi Seimbang. Jakarta: Dirjen Bina Gizi dan KIA

Kemenkes. 2015. Buku Kesehatan Ibu dan Anak. Jakarta: Kementerian Kesehatan dan JICA

Kemenkes. 2016. Situasi Balita Pendek. Jakarta Selatan: Pusat Data dan Informasi. http://www.depkes.go.id/resources/download/pusdatin/infodatin/situasi-balita pendek-2016.pdf. Diakses pada tanggal 29 Agustus 2018 pukul 07.00 WIB

Kementerian Kesehatan RI Direktorat Jendral Bina Gizi dan Kesehatan Ibu dan Anak. Keputusan Menteri Kesehatan Republik Indonesia Nomor 1995/ MENKES/ SK/ XII/ 2010 Tentang Standar Antopometri Penilaian Status Gizi Anak. Jakarta: 2011

Kementerian Kesehatan R.I. 2013. Riset Kesehatan Dasar (RISKESDAS) 2013. Jakarta: Badan Penelitian dan Pengembangan Kesehatan

Kementerian Kesehatan R.I. 2017. Profil Kesehatan Indonesia Tahun 2017. Jakarta: Kementerian Kesehatan Republik Indonesia

Keputusan Menteri Kesehatan Nomor 1995/MENKES/SK/XII/2010 tentang Standar Antropometri Penilaian Status Gizi Anak.

Kementerian Desa. 2017. Buku Saku Desa dalam Penanganan Stunting. Jakarta

Kuchenbecker et al. 2015. Exclusive Breastfessing And Its Effect On Growth Of Malawian Infants: results from a cross sectional study. Pediatr. Int. Child Health
Larasati, dkk. 2018. Hubungan Antara Kehamilan Remaja Dan Riwayat Pemberian ASI Dengan Kejadian Stunting Pada Balita Di Wilayah Kerja Puskesmas Pujon Kabupaten Malang. Research Study. Kabupaten Malang

Lituhayu R. 2008. Persiapan Makanan Pendamping Bagi Bayi. Jakarta: Waryana

Manuaba, IBG. 1998. Ilmu Kebidanan, Penyakit Kandungan dan KB. Jakarta: EGC

Manuaba, IBG. 2007. Pengantar Kuliah Obstetri. Jakarta : EGC

Martorell R, Horta BL, & Adair LS et al. Weight Gain in the First Two Years of Life Is an Important Predictor of Schooling Outcomes in Pooled Analyses from Five Birth Cohorth from Low and Midle Income Countries. Consortium on Health Oriented Research in Transitional Societies Group. 2010.
Maryunani, Anik. 2010. Ilmu Kesehatan Anak. Jakarta: EGC

Maryunani, Anik. 2010. Ilmu Kesehatan Anak dalam Kebidanan. Jakarta: Trans Info Media

Maulana, Mirza. 2010. Panduan Lengkap Kehamilan. Yogyakarta: Katahari

Medhin G, et al. 2010. Prevalence and predictors on undernutrition among infan- ts aged six and twelve month in Butajira, Ethiopia: The P- MaMiE Birth Cohort. BMC Public Health.

Meiwanto. 2007. Ilmu Kandungan. Jakakta: Salemba Medika

Mochtar, Rustam. 2013. Sinopsis Obstetri. Jakarta: EGC

Murkof, Heidi. 2013. Kitab Hamil Terlengkap Sebelum, Selama, dan Setelah Melahirkan. Bandung: Mizan Media Utama (MMU)

Oktarina, Z. Sudiarti, T. 2013. Faktor Risiko Stunting Pada Balita (24-59 Bulan) di Sumatera. Jurnal Gizi Pangan Volume 8 Nomor 3

Nadiyah. 2014. Faktor Risiko Stunting Pada Anak Usia 0—23 Bulan Di Provinsi Bali, Jawa Barat, Dan Nusa Tenggara Timur. Jurnal Gizi Dan Pangan

Nelson. 2000. Ilmu Kesehatan Anak Nelson Volume 2. Jakarta: EGC

Newman. 2009. Development Through Life. A Psychosocial Approach, Tenth Edition. USA : Wadsworth, Cengage Learning
Nikniaz L, Mahdavi R, Sr A, Khiabani S. 2009. Association Between Fat Content of Breast Milk and Maternal Nutritional Status and Infants ' Weight in Tabriz , Iran.

Notoatmojo. 2012. Metodologi Penelitian Kesehatan. Jakarta: Rineka Cipta

Pusdiklatnakes. 2014. Buku Ajar Kesehatan Ibu dan Anak. Jakarta: Pusdiklatnakes

Rahayu A. Dan Khairiyati L. 2011. Risiko Pendidikan Ibu Terhadap Kejadian Stunting Pada Anak usia 6-23 Bulan. Jurnal Penelitian Gizi Makanan Vol 37

Rahmad. 2017. Pemberian ASI dan MP ASI Terhadap Pertumbuhan Bayi usia 6-24 Bulan. Jurusan Gizi Poltekkes Kemenkes Aceh.
Rose W dan Neil. 2015. Panduan Lengkap Perawatan Kehamilan. Jakarta: Dian Rakyat

Rudolph, Abraham. 2006. Buku Ajar Pediatri Rudolph Vol 1. Jakarta: EGC

Rudolph, Abraham. 2007. Buku Ajar Pediatri Rudolph Vol 3. Jakarta: EGC

Saryono dan Anggraeni, Mekar Dwi. 2013. Metodologi Penelitian Kualitatif dan Kuantitatif dalam Bidang Kesehatan. Yogyakarta : Nuha Medika

Soetjiningsih. 2012. Perkembangan Anak dan Permasalahannya Dalam Buku Ajar 1 Ilmu Perkembangan Anak dan Remaja. Jakarta: EGC

Sheila. 2016. Improving Women's Nutrition Imperative For Rapid Reduction Of Childhood Stunnting In South Asia: Coupling Of Nutrition Specific Interventions With Nutrition Sensitive Measures Essential. Public Health Nutrition and Development Centre, New Delhi,India

Sinclair, Costance. 2009. Buku Saku Kebidanan. Jakarta:EGC

Sukarni, Icemi dan Wahyu. 2013. Buku Ajar Keperawatan Maternitas. Yogyakarta: Nuha Medika

United Nations Children's Fund (UNICEF). Improving Child Nutrition. New York: UNICEF: 2013

United Nations Children's Fund (UNICEF) Indonesia. Ringkasan Kajian: Gizi Ibu dan Anak; New York: UNICEF: 2012

Varney, 2007. Buku Ajar Asuhan Kebidanan Edisi 4 Volume 1. Jakarta: EGC

Victora C.G.,Adair L., Fall C., Hallal P.C.,Martorell R., RichterL. et al.. 2008. Maternal and child undernutrition: consequences for adult health and human capital. Lancet 371

Victor et al. 2016. Determinants Of Stunting And Severe Stunting Among Under-Vive In Tanzania: evidence from 2010 crosssectional household survey. Journal of Biomed Center Pediatrics, Vol. 15, hlm. 1- 13

Virdani, A. S., (2012). Hubungan Antara Pola Asuh Terhadap Status Gizi Balita Usia 12-59 Bulan di Wilayah Kerja Puskesmas Kalirungkut Kelurahan Kalirungkut Kota Surabaya (Skripsi tidak terpublikasi). Universitas Airlangga, Surabaya.

Welasasih, Bayu Dwi dan Bambang Wirjatmadi. 2012. Beberapa Faktor Yang Berhubungan Dengan Stunting. The Indonesian Journal Of Public Health. Fakultas Kesehatan Masyarakat Universitas Airlangga Surabaya

Y. Jiang, X. Su, C. Wang, L. Zhang, X. Zhang, L. Wang and Y. Cui. 2014. Prevalence And Risk Factors For Stunting And Severe Stunting Among Children Under Three Years Old In Mid-Western Rural Areas Of China.

Zottarelli LK, Sunil TS, Rajaram S. (2007). Influence of Parental and Socioeconomics Factors on Stunting in Children Under 5 Years in Egypt. Eastern Mediterranean Health Journal.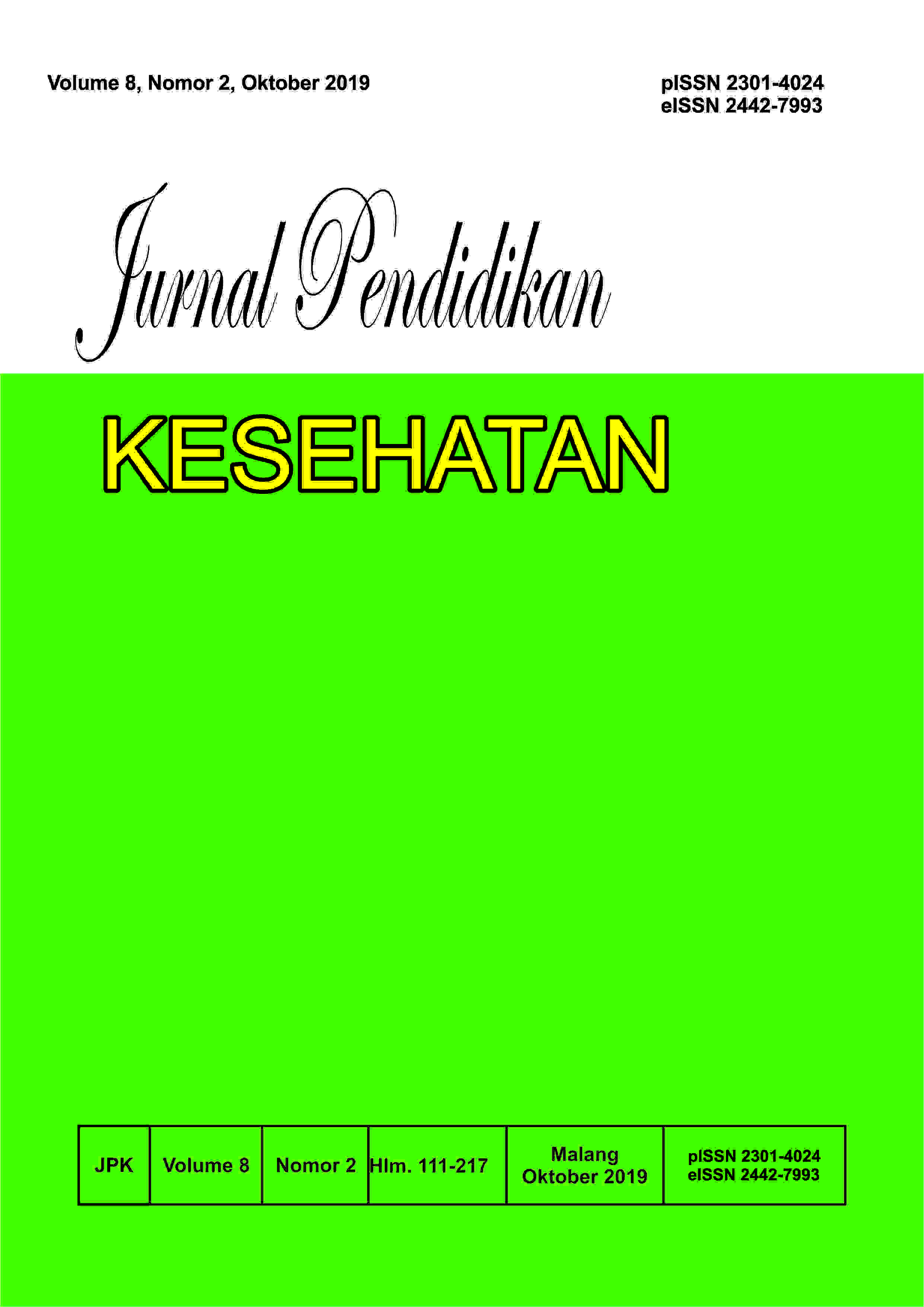 Section
Original Research
This work is licensed under a Creative Commons Attribution-ShareAlike 4.0 International License.

Array ( )