The Relationships Between Subcutaneous Fat, Body Mass Index, And Hemoglobin Level With Primary Dysmenorrhea In Female Adolescents In SMAN 1 Sumberpucung
Aisa Oktaviana Nur Imaniar

Poltekkes Kemenkes Malang

Erni Dwi Widyana

Ita Yuliani
Abstract
Dysmenorrhea is pain experienced by teenagers during menstruation. Based on the level of pain, dysmenorrhea is divided into 2, primary dysmenorrhea and secondary dysmenorrhea. Primary dysmenorrhea occurs in adolescence, about 2 until 3 years after the first menstruation, pain originating from uterine contractions stimulated by prostaglandins. Risk factors for dysmenorrhea can be caused by menarche at an early age, nutritional status, family history, coffee consumption, fast food habits. Adolescents with a body mass index more than normal have high levels of prostaglandins that can lead to primary dysmenorrhea. Adolescents with anemia or less than normal hemoglobin level, feel dysmenorrhoeic pain or pain during menstruation. The purpose of this study was to determine the relationship of subcutaneous fat, body mass index, hemoglobin level with primary dysmenorrhea in adolescent girls. The population in this study was 44 people, sampling is done by total sampling. Hypothesis testing using Chi Square test T approximately same as 0,05 and logistic regression. The results of logistic regression test found that there was a correlation between subcutaneous fat namely 0.004  is smaller than 0.05 and hemoglobin level namely 0.008 is smaller than 0.05 while for body mass index, there was no correlation with primary dysmenorrhea namely 0.152 is greater than 0.05. It is hoped that this research can be further developed regarding other risk factors for primary dysmenorrhea in young women.
References
Atikah. 2009. Menarche. Yogyakarta : Nuha Medika
Bano R. Anemia and its impact on dysmenorrhea and Age at Menarche. Journal of Pharmacy and Biological Sciences. 2012; 4(2): 21‒4
Cunningham FG, Leveno KJ, Bloom SL, Hauth JC, Rouse DJ, Spong CY. 2010. William obstetry. Edisi ke- 23. Jakarta : EGC
Emilia, E. (2009). Pendidikan gizi sebagai salah satu sarana perubahan perilaku gizi pada remaja. Universitas Negeri Medan
Isjwara RI, Wdjaja L, Jan WS. Comparison of Brody compositional indices assessed by underwater weighing, bioelectrical impedance Ana anthropometry in Indonesian adolescent girls. Asia Pacific Journal of Clinical Nutrition. 2007;16(4): 641-8
Karyadi E. 2005. Menangkal rasa sakit menjelang menstruasi. www.indomedia.com [20 Desember 2017
Kristina. 2010. Dismenore primer. Jakarta : Balai Pustaka
Labayen I, Ortega FB, Moreno LA, Rodeno-Figuero C, Bueno G, Gomez-Martinez S, Bueno M. 2009. The effect of early menarche on later body composition and fat distribution in female adolescents: role of birth weight. Ann Nutr Metab 54: 313-320
Larasati dan Alatas. 2016. Dismenore Primer dan Faktor resik Disminore pada Remaja. Majority Vol 5 No 3 hal 79-84
Linda, Endang Wahyuningsih dan Sari, Puspita. 2014. Hubungan Kadar Hemoglobin Dengan Kejadian Dismenorea pada siswi kelas XI SMA Negeri 1 Wonosari Klaten. Jurnal Involusi Kebidanan, Vol. 4, No. 7, Januari 2014, 67-78
Nadhiroh, Umi. 2013. Kecemasan remaja putri dalam menghadapi nyeri haid (Dismenorhea) pada siswi kelas VII di SMP N 1 Mojoanyar kabupaten Mojokerto. Jurnal. Hospital majapahot, vol 5 no 1
Ningrum, Utami Putri. 2009.Hubungan Kelebihan Berat Badan dengan Dysmenorrhea Primer pada Mahasiswi Fakultas Kedokteran UNS. Skripsi. Universitas Negeri Sebelas Maret
Nugraha, M. 2008. Perawatan Kebidanan dan Kesehatan Reproduksi. Medan :Gramiko Pustaka Raya
Potter dan Perry. 2007. Buku Ajar Fundamental Keperawatan : Konsep, Proses dan Praktik Edisi Ke Empat. Jakarta : EGC
Prawirohardjo, Sarwono & Hanifa W. 2011. Ilmu Kandungan. Jakarta : PT. Bina Pustaka Sarwono Prawirohardjo
Rahmawati, Y. 2017. Hubungan Kadar Hemoglobin Dengan Tingkat Dismenorea Pada Remaja Putri Di Prodi DIII Kebidanan Universitas Ngudi Waluyo. [KTI]. Universitas Ngudi Waluyo
Saraswati, S. 2010. 52 Penyakit Perempuan. Yogyakarta : Ar-Ruzz Media Group
Setyowati E. 2006. Hubungan Indeks Massa Tubuh (IMT) dengan Kejadian Sindroma Pramenstruasi Pada Siswi Sekolah Menengah Atas Negeri 1 Purwodadi Kabupaten Grobogan [skripsi]. Ilmu Gizi. Semarang: Universitas Diponegoro
Shepard RJ. 2005. Contribution of school programmes to physical activity levels and attitudes in children and adults. J Sports Medicine, 35(2), 89—105
Sophia F., Sori M., Jemadi. 2013. Faktor-Faktor yang Berhubungan dengan Dismenore pada Siswi SMK Negeri 10 Medan Tahun 2013 [tesis]. Medan: USU
Sudjana, C. 2005. Buku Kuliah 2 Kesehatan Reproduksi. Jakarta : SKMUI
Vitiasaridessy, Fenny. 2014. Kadar Hemoglobin Dengan Kejadian Dismenorea Pada Remaja Putri. Jurnal Edu Health, Vol. 4 No. 2, September 2014
Waryana. 2010. Gizi Reproduksi. Yogyakarta : Pustaka Rihama
Widjanarko, B, 2006. Dismenore Tinjauan Terapi pada Dismenore Primer. Bagian Ilmu Kebidanan dan Penyakit Kandungan Fakultas Kedokteran Rumah Sakit Unika Atma Jaya
Yulius. 2013. Hubungan Sikap Tentang Menstruasi Dengan Upaya Penanganan Dismenore Pada Mahasiswi Semester III Program Studi D3 Kebidanan STIKES Husada Jombang. Skripsi, Program Studi Ilmu Keperawatan, Fakultas Ilmu Kesehatan STIKES Husada Jombang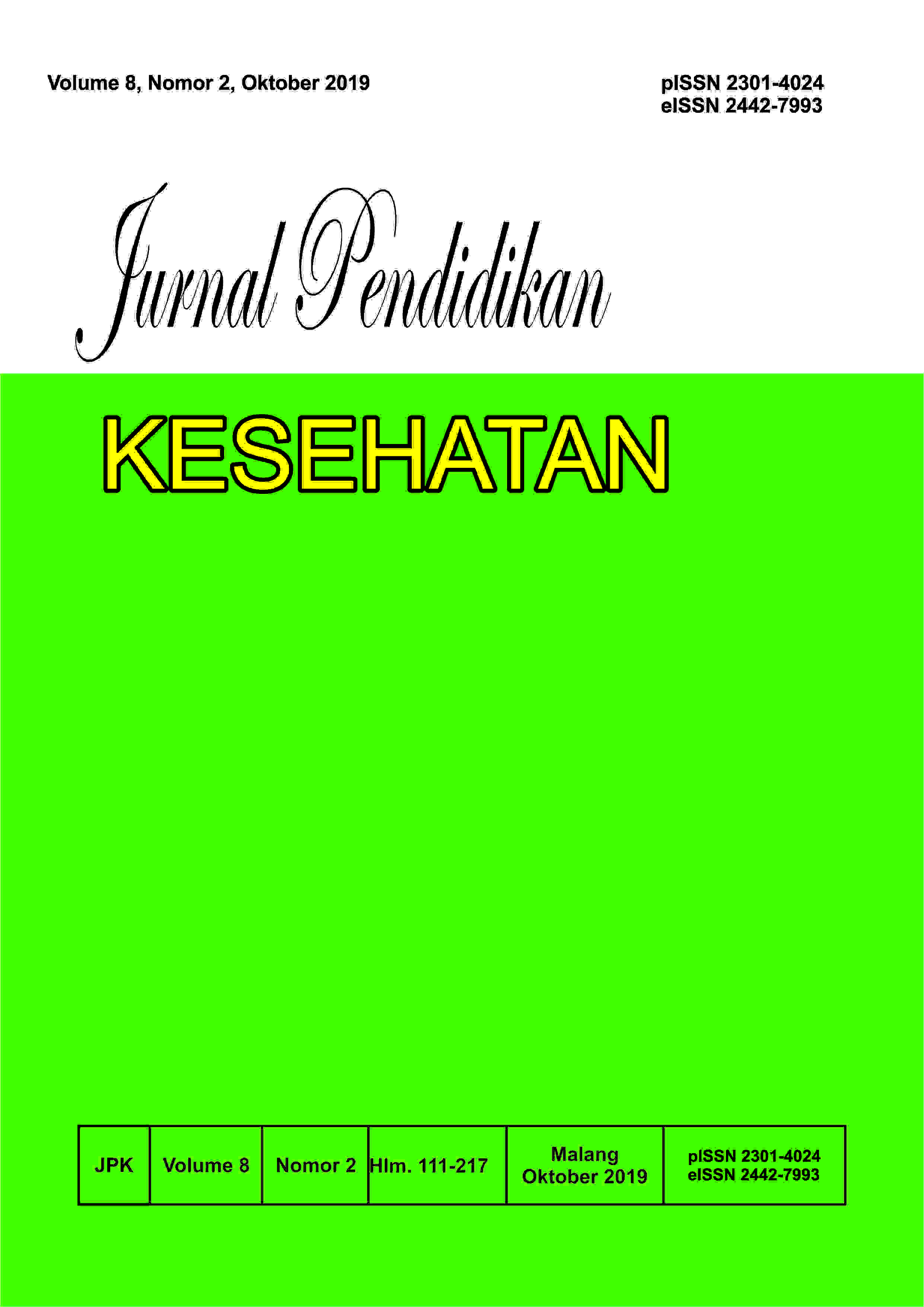 How to Cite
IMANIAR, Aisa Oktaviana Nur; WIDYANA, Erni Dwi; YULIANI, Ita. The Relationships Between Subcutaneous Fat, Body Mass Index, And Hemoglobin Level With Primary Dysmenorrhea In Female Adolescents In SMAN 1 Sumberpucung.
Jurnal Pendidikan Kesehatan
, [S.l.], v. 8, n. 2, p. 176-188, oct. 2019. ISSN 2442-7993. Available at: <
https://ojs.poltekkes-malang.ac.id/index.php/jpk/article/view/1071
>. Date accessed: 05 feb. 2023. doi:
https://doi.org/10.31290/jpk.v8i2.1071
.
Section
Original Research
This work is licensed under a Creative Commons Attribution-ShareAlike 4.0 International License.

Array ( )