The Effect Of Birthing Ball On The Duration Of Active Phase In Primigravida At Pmb Yulis Indriana, Malang
Gemini Astrika

-

Ardi Panggayuh

Tri Mardiyanti
Abstract
The duration of labour in primigravida can effect on exhausting and decrease energy phisically. Otherwise, exhausted can impact the duration of labor longer because of inefficient uterine contraction. It also can cause prolonge labour that increase the risk of haemorage postpartum. Exhausted in labour can be avoided by speed up the duration of labour using birthing ball. This study aimed to identify the effect of birthing ball on the duration of active phase in primigravida. An observatinal analitic with cross sectional design was used. Subjects were randomly devided into intervention group and control group. In this study, subjects were selected using systematic random sampling and quota sampling that was conducted on 20 subjects according to the inclusion criteria. The datas were collected using identity sheet, observation sheet, and partograph. Then, the datas were analyzed using Chi Square Test with significance level T approximately same as 0.05. According to the analyze result that has gotten, p value 0,045 is smaller than T approximately 0,05, so H0 is rejected which means there is an effect of birthing ball on the duration of active phase in primigravida. Considering the effect of birthing ball on the duration of active phase in primigravida, performing birthing ball is recommended as a useful strategy to help speed up the duration of active phase in primigravida.
References
1. Sofian, Amru. 2013. Sinopsis ObstetriJilid 1. Jakarta: EGC
2. Depkes RI. 2014. Asuhan Persalinan Normal. Jakarta: JNPK-KR
3. Varney, Helen. 2008. Buku Ajar Asuhan Kebidanan Ed.4. Vol.2. Jakarta: EGC
4. Prawirohardjo, Sarwono. 2014. Ilmu Kebidanan. Jakarta: Bina Pustaka Sarwono Prawirohardjo
5. Wahyuni, Candra. 2017. Analisa Pimpinan Persalinan dengan Lama Persalinan pada Ibu Bersalin di BPS Nursofi Ummah Kecamatan Ngunut Kabupaten Tulungagung. Jurnal EDU Midwivery. 1(1)
6. Ainny, Dwi Noer. 2014. Efektivitas Pemberian Air Kelapa Muda Terhadap Lama Persalinan Kala II pada Ibu Intranatal di BPM Ny. "M" Pungging, Mojokerto. Laporan Penelitian
7. Rukiyah, Aiyeyeh dan Lia. 2010. Asuhan Kebidanan IV (Patologi Kebidanan). Jakarta: TIM
8. Baktiyani, dkk. 2016. Hubungan antara Partus Lama dengan Kejadian Perdarahan Postpartum Dini di Kamar Bersalin Rumah Sakit Umum dr. Saiful Anwar Malang. Majalah Kesehatan FKUB. 3(4)
9. Mathew, Albin, dkk. 2012. A Comparative Study on Effect of Ambulation and Birthing Ball on Maternal and Newborn Outcome among Primigravida Mothers in Selected Hospital in Mangalore. Nitte University Journal of Health Science. 2(2)
10. Marmi.2012. Intranatal Care: Asuhan Kebidanan Pada Persalinan. Yogyakarta: Pustaka Pelajar
11. Simkin, Penny dan Ruth Ancheta. 2005. Buku Saku Persalinan. Jakarta: EGC
12. Kwan WSC, dkk. 2011. The Birth Ball Experience: Outcome Evaluation of the Intrapartum Use of Birth Ball. Hong Kong Journal Gynaecol Obstet Midwifery. 11(1)
13. Rahmawati, Agustina, dkk. 2016. Analisa Hubungan Tingkat Kecemasan dan Nyeri Persalinan Kala I Primipara di Wilayah Puskesmas Kota Pekalongan. Jurnal Litbang Kota Pekalongan.
14. Prianita, Ana Widi. 2011. Pengaruh Faktor Usia Ibu Terhadap Keluaran Maternal dan Perinatal pada Persalinan Primigravida di RS Dr. Kariadi Semarang Periode Tahun 2010. Karya Tulis Ilmiah
15. Zaky, Navertity Hasan. 2016. Effect of Pelvic Rocking Excercise Using Sitting Position on Birth Ball During The First Stage of Labour on Its Progress. IOSR Journal of Nursing and Health Science. 5(4)
16. Aprilia, Y, dan Ritchmond. 2011. Gentle Birth Melahirkan Tanpa Rasa Sakit. Jakarta:Gramedia Widiasarana Indonesia
17. Sondakh, Jenny J.S. 2013. Asuhan Kebidanan Persalinan dan Bayi Baru Lahir. Jakarta: Erlangga
18. Sulistyawati, Ari dan Esti Nugraheny. 2014. Asuhan Kebidanan pada Ibu Bersalin. Jakarta: Salemba Medika
19. Wulandari, Priharyanti dkk. 2018. Pengaruh Prenatal Yoga terhadap Tingkat Kecemasan Ibu PrimigravidaTrimester II dan III di Studio Qita Yoga Kecamatan Semarang Selatan. Jurnal Keperawatan. 9(1)
20. Ariastuti, Nurul Dwi, dkk. 2015. Hubungan antara posisi miring kiri dengan proses mempercepat penurunan kepala janin pada proses persalinan di BPM Ny. M Slerok Kota Tegal.
21. Sriwenda, Djudju dan Yulinda. 2016. Efektivitas Latihan Birth ball terhadap Efikasi Diri Primipara dengan Persalinan Normal. Jurnal Ners dan Kebidanan Indonesia. 4(3)
22. Sumiati. 2015. Pengaruh Peran Pendampingan Suami terhadap Percepatan Proses Lama Kala I Fase Aktif di BPS Kusworo Surabaya. Jurnal Kebidanan Vol.5
23. Artal R dan M O'Toole. 2003. Guidelines of the American College of Obstetricians and Gynecologists for exercise during pregnancy and the postpartum period. British Journal of Sports Medicine.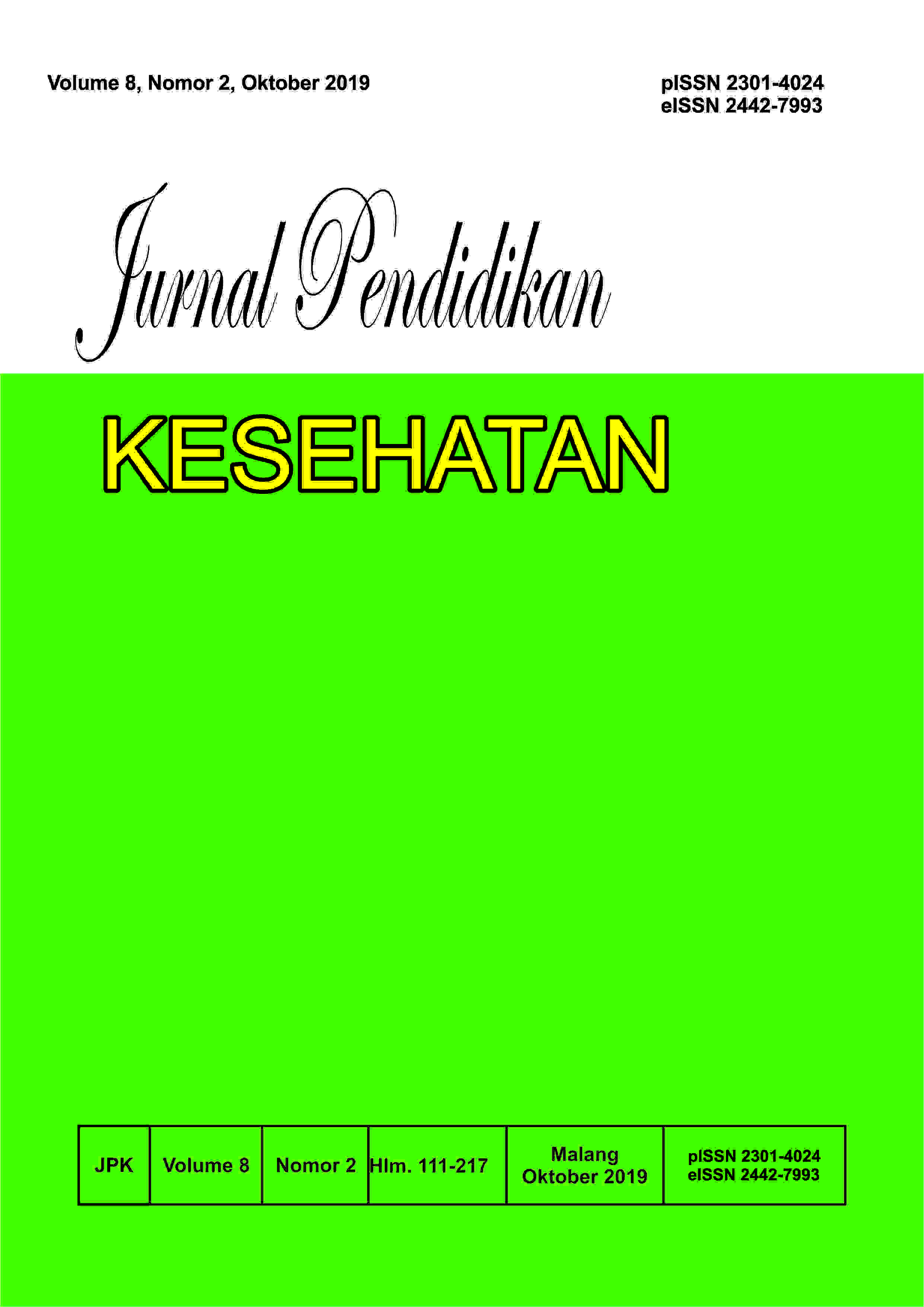 Section
Original Research
This work is licensed under a Creative Commons Attribution-ShareAlike 4.0 International License.

Array ( )