Prevention And Control Of Nosocomial Infections In Hospitals
Heriyati Heriyati

Universitas Sulawesi Barat

Hatisah .

Universitas Sulewesi Barat

Ayu Astuti

Universitas Sulewesi Barat
Abstract
Infectious diseases related to health care are the latest health-related problems in various countries of the world, including Indonesia. The incidence of nosocomial infections or commonly referred to as Healthcare Associated Infection (HAIs) in 2018 by Majene Regional Hospital received Decubitus is 10%, IDO 10.6%, Plebitis 47.8%. While the target that must be achieved by Majene Hospital is Decubitus adalah 10%, IDO ? 2%, Plebitis ? 1%. Majene Regency Regional General Hospital. This type of research is quantitative research with cross-sectional research. Data were processed univariate and bivariate using the chi square test. Results obtained There was a dispute between respondents who answered against and controlling HAI with a significance level of p = 0.00 (p <0.05). means there is a relationship between the level of knowledge of infection protection and control in Majene Regency Regional General Hospital.
Keywords : Knowledge, Prevention, Control, Nosocomial Infection
References
Atmadja, Layung Jingga.2012. Analisis Perilaku Perawat Dalam Pencegahan Infeksi Nosokomial di Ruang Rawat Inap RSUD X Jakarta Tahun 2012. Univresitas Indonesia : Jakarta
Caroline, Waworuntu, 2016. Infeksi Nosokomial.N muhaMedika : Yogyakarta
CDC. (2016). National and State Healthcare Associated Infections Progress Report
Kementerian kesehatan, R.I. 2017. Pedoman pencegahan dan pengendalian infeksi di rumah sakit dan fasilitas pelayanan kesehatan lainnya. Jakarta: Kementerian Kesehatan RISuharto & Ratna. 2016. hubungan pengetahuan dan sikap perawat dengan tindakan pencegahan infeksi di ruang icu rumah sakit Jurnal Riset Herti Medan 1(1);1-10
Lindawati .2011. hubungan tingkat pengetahuan dan sikap perawat tentang infeksi nosokomial (inos) dengan perilaku pencegahan inos di ruang bedah rsud dr. Moewardi Surakarta
Ningsih,EW.2013. Hubungan Tingkat antara Pengetahuan dan motivasi perawat dengan perilaku Pencegahan Infeksi Nosokomial di rumah sakit Umum Daerah Sukoharjo Fakultas Ilmu Kesehatan : Universitas Muhammadiyah Surakarta
Sapardi, dkk.2018.analisis pelaksanaan manajemen pencegahan dan pengendalian healthcare associated infections di rsi ibnusina. Jurnal Endurance 3(2) Juni 2018 (358-366)
Situmorang, Paskah Rina. 2020. Hubungan pengetahuan bidan tentang infeksi nosokomial dengan tindakan pencegahannya pada pasien bedah seksio sesarea.Jurnal Keperawatan Priority 3(1):83-90
Sulistyowati, Dwi.2016. Hubungan tingkat pengetahuan dan sikap perawat tentang infeksi nosokomial (inos) dengan perilaku pencegahan inos di ruang bedah rsud dr. Moewardi surakarta. Jurnal Keperawatan Global 1(1):31-35
WHO. 2016). The Burden of Health Care-Associated Infection Worldwide A Summary.
Yunita.2015. Hubungan pengetahuan, sikap dengan praktik perawat dalam pencegahan infeksi nosokomial diruang Rawat inap rumah sakit islam kendal.Jurnal keperawatan 8(1):23-43
Zulkarnain. 2018. Analisis hubungan perilaku perawat terhadap tindakan pencegahan infeksi nosokomial (phelibitis) di Ruang Perawatan Interna RSUD Bima tahun 2018. JISIP, 2(1).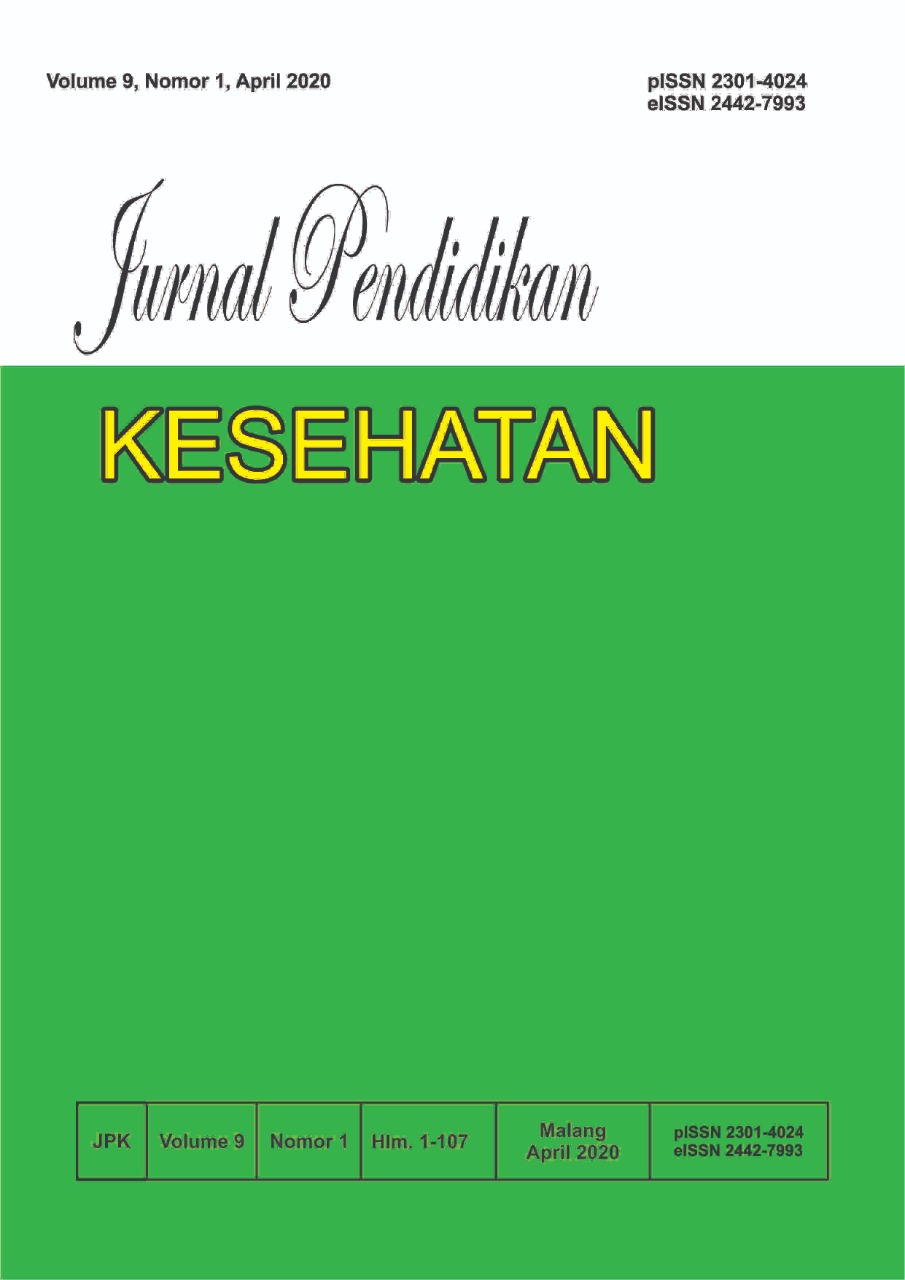 Array ( )