EFFECT OF TASTE, APPEARANCE, MATERIAL LEVEL, TEMPERATURE, CLEANLINESS AND FOOD PORTION ON PATIENT SATISFACTION IN NUTRITION SERVICES IN MALANG HOSPITAL
Tsalits Maulidah Hariez

Poltekkes Kemenkes Malang

Prima Soultoni Akbar
Abstract
Providing good quality food and the amount according to the needs and proper service for patients is the goal of organizing hospital food. nutritional service quality can also be seen from patient satisfaction with hospital facilities and services, including patient satisfaction in nutrition services. Patient satisfaction is product expectations and patient perceptions of service quality. This study aims to determine the effect of the influence of taste, appearance, maturity level, temperature, cleanliness and portion of food on patient satisfaction in nutritional services in Malang.
This research design is observational analytic with cross design. This research was conducted at X Malang Hospital. The respondents of this study were 70 people. The dependent variable is the influence of taste, appearance, maturity, temperature, cleanliness and portion of food. Independent variable is patient satisfaction
The results showed that patient satisfaction was influenced by the influence of taste (b = 2.41; 95% CI = 0.05 to 0.46; p = 0.016), appearance (b = 2.41; 95% CI = 0.05 to 0.46; p = 0.016), maturity level ( b = 2.41; 95% CI = 0.05 to 0.46; p = 0.016), temperature (b = 2.41; 95% CI = 0.05 to 0.46; p = 0.016) and cleanliness and portion of food (b = 2.41; 95% CI = 0.05 to 0.46; p = 0.016).
Keywords: food quality, nutritional service satisfaction
References
Ajuningsasi, R. (2006). Hubungan Aspek Kualitas dan Kuantitas Makanan dengan Sisa Makan Pasein di Bapelkes RSU dr. Wahidin Sudiro Husodo Mojokerto. Skripsi. Fakultas Kesehatan Masyarakat Unair.

Ariefuddin A., Kuntjoro T. & Prawiningdyah Y. (2009). Analisis Sisa Makanan Luna Rumah Sakit Pada Penyelenggaraan Makanan Dengan Sistem Outsourcing di RSUD Gunung Jati Cirebon, Jurnal Gizi Klinik Indonesia, Vol. 5 No. 3(Maret 2009): pp. 133-142.

Hartwell H.J., Edwards J.S.A., Symonds.C. (2006). Foodservice in Hospital Development of a Theoretical Model for Patient Experience and Satisfaction Using One Hospital in the UK NHS as a Case Study. Journal Compilation. Blackwell Publishing Journal of Foodservice. Vol 17. pp:226-238
Hong, W., & Kirk, D. (1995). The Analysis of Edible Plate Waste Results in 11 Hospital in the UK. Journal of Foodservice System, 8: pp 115-123

Kandiah, J., Stinnett, L., Lutton, D. (2006). Visual Plate Waste in Hospitalized Patients: Length of Stay and Diet Order. Journal of The American Dietetic Association (JADA). Oktober Vol 106 : No 10

Kemenkes RI. (2008). 'Kemenkes RI No 129 Tahun 2008 tentang Standar Pelayanan Minimal Rumah Sakit'.

Kemenkes RI. (2013). 'Pedoman Pelayan¬an Gizi Rumah Sakit'.

Mas'ud, H., Rochimiwati, S., Rowa, Sahariah. (2015). Studi Evaluasi Sisa Makanan Pasien dan Biaya Makanan PAsien di RSK DR Tadjuddin Chalid dan RSUD Kota Makassar. Media Gizi Pangan. Vol. XIX. Edisi 1

Moehyi, S. (1992). Penyelenggaraan Makanan Institusi dan Jasa Boga, Bhratara, Jakarta.

Nuraini, N. (2016). Hubungan Suhu Makanan dengan SIsa Makanan Pasien Dewasa dengan Diet Lunak di Ruang Rawat Inap Penyakit Dalam RSUD Kota Semarang.

Parasuraman A., Zeithaml V. & Berry L. (1994). SERVQUAL: review, Critique Reseearch Agenda, Journal of Marketing.

Rachmawati, D., Wahyuningsih, S. (2015). Kepuasan Pasien dalam Pelayanan Gizi di Ruang Rawat Inap di RSI Sunan Kudus. Jurnal Kesehatan Masyarakat Stikes Cendekia Utama Kudus. Vol.3 No.1. Ags . pp:9-18

Richard. (2004). Konsep Kepuasan. www.tety staff gunadarma.ac.id (diunduh tanggal 20 Juni 2018)

Rizani, A. (2013). Pengaruh Faktor Internal dan Eksternal terhadap Terjadinya Sisa Makanan Pasien Rawat Inap di RS Bayangkara Palembang. Skripsi online.

Sari,. Dian B.L. (2012). Hubungan Penampilan Makanan dan Faktor Lainnya dengan Sisa Makanan BIasa Pasien Kelas III Seruni RS Puri Cinere Depok. Skripsi. Universitas Indonesia Depok

Semedi, P., Kartasurya, M., Hagnyona-wati. (2013). Hubungan Kepuasan Pelayanan Makanan Rumah Sakit dn Asupan Makanan dengan Perubahan Status Gizi Pasien di RSUD Sunan Kaljaga Demak. Jurnal Gizi Indonesia. Vol.2. No.1. Desember. pp:32-41

Wahyunani D., Susilo J., & Wayansari L. (2017), Hubungan Tingkat Kepuasan Pasien terhadap Pelayanan Gizi Dengan Sisa Makanan Pasien VIP di Rumah Sakit Panti Rapih Yogyakarta', ed. Tesis. Yogyakarta P.K. diakses pada 24 Januari 2018 (http:// eprints.poltekkesjogja.ac.id/id/eprit/211)

Wirasamadi, N.I., Adhi, T., Weta,W. (2015). Analisa Sisa Makanan Pasien Rawat Inap di RSUP Sanglah Denpasar Provinsi Bali. Publalic Health and Preventive Medicine Archive. Vol.3 Juli. No.1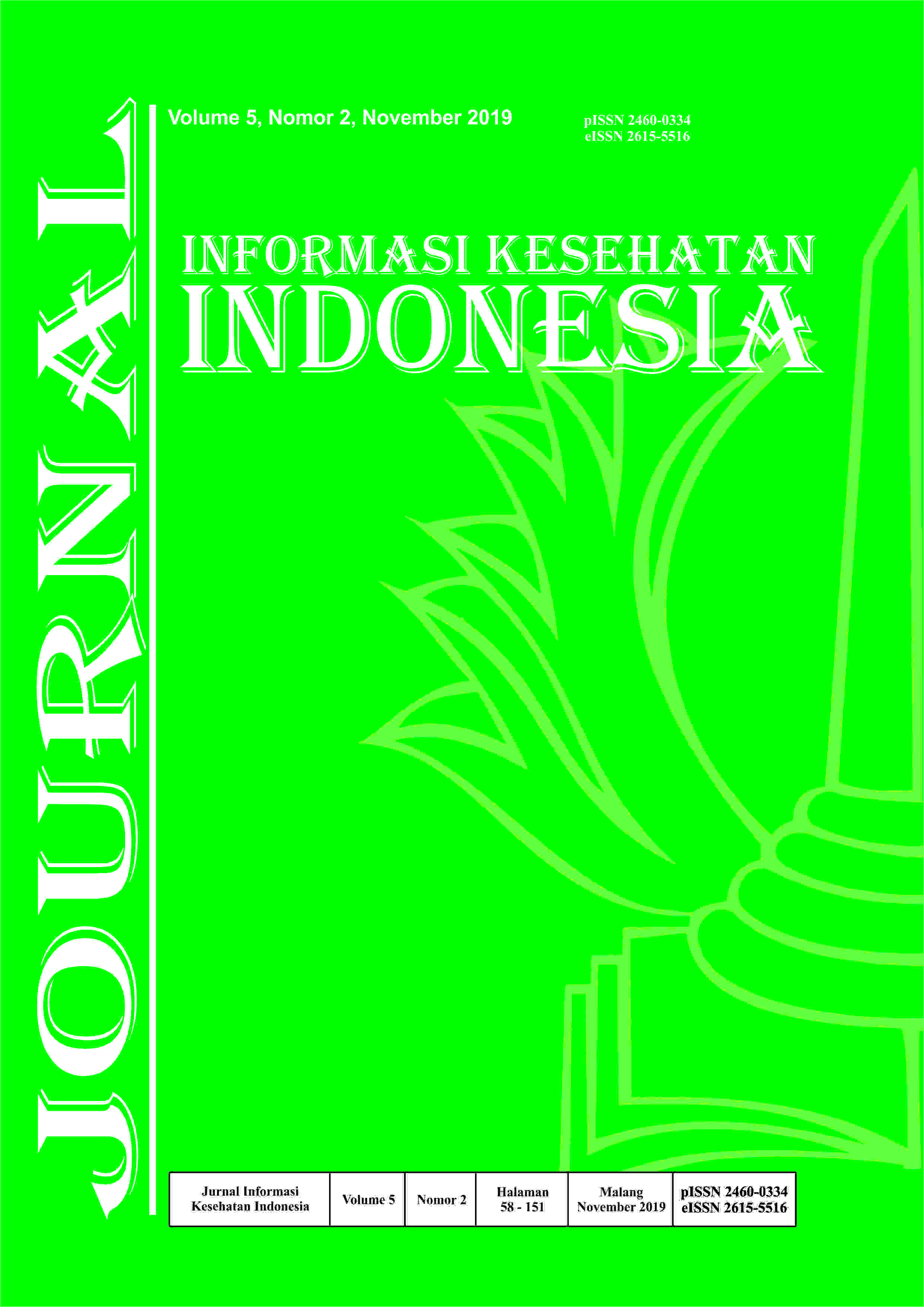 How to Cite
HARIEZ, Tsalits Maulidah; AKBAR, Prima Soultoni. EFFECT OF TASTE, APPEARANCE, MATERIAL LEVEL, TEMPERATURE, CLEANLINESS AND FOOD PORTION ON PATIENT SATISFACTION IN NUTRITION SERVICES IN MALANG HOSPITAL.
Jurnal Informasi Kesehatan Indonesia (JIKI)
, [S.l.], v. 5, n. 2, p. 65-71, nov. 2019. ISSN 2615-5516. Available at: <
http://ojs.poltekkes-malang.ac.id/index.php/JIKI/article/view/1433
>. Date accessed: 19 jan. 2021. doi:
https://doi.org/10.31290/jiki.v5i2.1433
.